Wakeboarding Philippines –An Outdoor Sport Slowly Gaining Traction And Popularity
No doubt, wakeboarding in the Philippines is certainly taking off among sports enthusiasts and adrenaline junkies. It is one of those definitive sports that certainly will certainly allow individuals to indulge their penchant for adrenaline-pumping pursuits. Although recently popular, wakeboarding in the Philippines is not quite as recent as some might think—in fact, it has been around for quite some time now. In the early 90s, it has been a sport that waterski enthusiasts who had access to boats have been dabbing their hands into. In its early stages, wakeboarding in the Philippines took form in individuals riding wakeboards that resembled roughly that of a surfboard with sandals.
Wakeboarding In The Philippines Today
On a whole, wakeboarding in the Philippines is a culmination of the evolution of various waterski disciplines. Its growth in popularity can be attributed to its appeal—particularly to young individuals who are into adrenaline-pumping activities as it is suitable for their youthful energy and vigor. Today, wakeboarding in the Philippines is slowly but surely gaining traction extreme sports and outdoor activity enthusiasts. Consequently, the Philippines has also been slated as one of the premier wakeboarding destinations that would further develop and enhance local talent. Resultantly, wakeboarding in the Philippines gave rise and recognition to the emergence of wakeparks with one of them being the Republ1c Wakepark in Nuvali, Laguna.
Republ1c Wakepark: Nuvali's World-Class Wakeboarding Destination
Wakeboarding successfully combines the best of water skiing, surfing, and snowboarding, making it the perfect activity for thrill-seekers. Republ1c Wakepark, Nuvali's premiere offering for wakeboarding enthusiasts, is just around 52 kilometers from Metro Manila, making it a quick and convenient weekend destination for those living in the metro.
Wakeboarding in the Philippines is truly fast growing in popularity. Both locals and foreigners alike are recognizing the huge potential of this sport in the country. Nuvali, a community that provides everything you could ever need, aims to be a partner in making this sport highly successful by providing world-class wakeboarding facilities.
Beginners may choose from two wakeboard lakes, and professionals are on hand to teach all the right techniques while having fun, making it the best place to learn the sport. Advanced riders can practice and enjoy all the obstacles, or show off their skills on the wakepark's new ramps that are more elevated than usual.
The Cable Park
There are different ways you can engage in this sport. Republ1c Wakepark is a cable park which means wakeboarding in Nuvali involves cables and not boats. You only need to grab onto a handle, hit the water, and the cable pulls you through the water and the obstacles.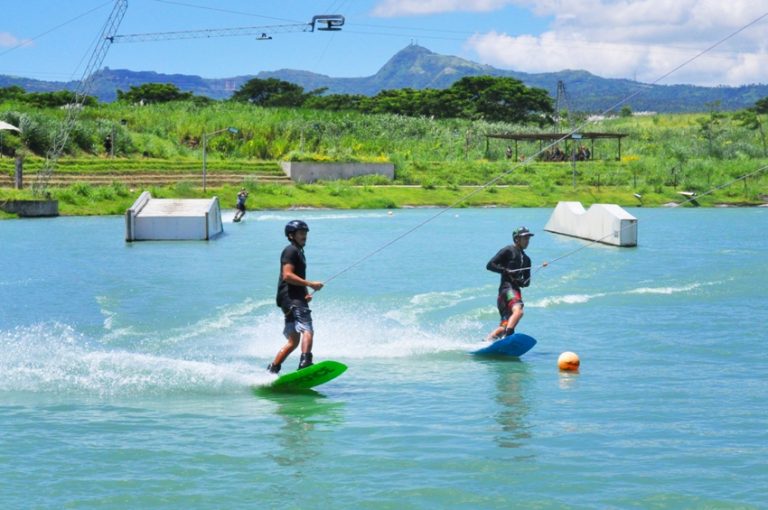 Yes, Republ1c Wakepark offers not just a serene man-made body of water for you to wakeboard on; it has a generous offering of obstacles to make the experience more challenging and exciting. Some of the obstacles that you can expect to see are a flat bar, a skatebox, a rooftop, an arrow step down, a rollercoaster, and a funbox, among others.
If you are a beginner, do not be daunted by these obstacles because you can progress into trying out each of them as you go along. For the more adventurous and advanced riders, feel free to have your fun with all the obstacles.
Riding rates at this cable park are affordable and flexible. You can choose from 1-, 2-, 4-, and 8-hour passes if you only plan to ride for a few hours. You may also go for the day and night pass or for those who plan to ride on a regular basis. The park also offers unlimited passes for 1 week, 1 month, 6 months, and 1 year. Although using your own wakeboard is very much welcome, the park also offers boards for rent during your stay.
Accommodations
Wakeboarding in Nuvali, Laguna can be quite short for just a few hours or a day activity, although it is still commonly done by many of Republ1c Wakepark's guests. For those who would like to maximize their riding time by staying longer, the park offers affordable and comfortable accommodations so you can ride for as long as you like.
The park offers two Nuvali houses where you can stay for only Php 700 each person per night. Each house has three bedrooms, one toilet and bath, hot and cold shower, electric kettle, and oven toaster. The houses are just five minutes away from Republ1c Wakepark and you can avail of free shuttle service to and from Republ1c Wakepark. With the comfort and convenience that this provides, you would feel like living in your own home right next to one of Philippine's top wakeboarding park.
Promos and Events
Republ1c Wakepark adds more fun to wakeboarding in Nuvali with the promos and events that are made available for their guests. The park often offers promos such as Tandem Wednesday, which lets you bring a friend and pay for only one pass; School is Cool, which gives 20% discount to all students; and Groupie Fridays, which lets you pay only for only 4 riders for a group of 5 riders.
Repul1c Wakepark has also been a host to several wakeboarding events. The Wake of Thrones on November 2013 gave out over 20000 US dollars in prize money while the King of Rails, an obstacle only competition also held on November 2013, gave out over 12000 US dollars in prize money.
Republ1c Wakepark features amenities such as a 4-hectare lake, shower rooms and dressing rooms. Soon, there will be a hotel, a bar and restaurant, and a skate park.
Republ1c Wakepark is located at West Diversity Boulevard, Nuvali, 4027 Calamba, Laguna
Operating Hours: Monday to Sunday
8:30 AM – 12:30 PM
1:00 PM – 5:30 PM
6:00 PM- 10:00 PM
For more information and for price list, check the website: www.republicwakepark.com.
For other inquiries, please call 0947 8924961.